Palletizers
A palletizer is a machine that provides automatic means for sorting, transferring and stacking cases of goods or products onto a pallet; usually at the end of a manufacturing line. Automatic palletizing is good for convenient, high-volume shipping. Palletizers provide load stability, precision and operation speed. They also make it possible to move more loads at once. Manually placing boxes on pallets is time consuming and expensive. It can also put unusual stress on workers. To move away from this process, the row-forming machine was developed in the early 1950's. The row-forming machine formed neat rows of product on the pallet. Down the road, the development of computers and robotics brought great enhancements for palletizing. The machine itself could handle more of the work and control. The variety of products that palletizers could handle also grew to include items, such as bottles, which would be difficult and not cost effective to palletize by hand.
Types
There are four groups of Palletizers: robotic, low-level, high-level and in-line palletizers.
Robotic Palletizer (Robot Palletizer)
Robotic palletizers are automatic or semi-automatic. They typically stand between a
pallet dispenser
and a pallet conveyor belt line that carries incoming products. A hydraulic robotic arm lifts the product and neatly organizes it onto a pallet. Robotic palletizers can only lift one item at a time, yet they are much faster than manual stacking and are not prone to fatigue or injury.
Low-Level and High-Level Palletizers
Both types work with conveyors and a feed area that receives products. The difference between the two is that low-level load products from the ground level and high-level load products from above. In both cases, products and packages arrive on conveyors, where they are continuously transferred to and sorted on the pallets. These palletizing processes may be automatic or semi-automatic, but either way, both are faster than the robotic palletizing process.
In-Line Palletizer System
In-line systems are systems designed to stack complete layers of bags or cartons at one time. Row stripper palletizers are a type of in-line palletizer that organizes a row then pushes it to the side until another row forms. The palletizer will stack row on top of row until a pallet is complete. Another type of in-line palletizer is the vacuum-head unit. Vacuum head units grab and hold onto items with air-powered suction cups.
What Affects the Speed of Palletizers?
Looking back in the history of manufacturing, the goal has always been to make processes faster and more efficient. This mentality also applies in packaging. There are a number of factors that decide the speed of a palletizer. During design, you need to know product length, product per layer and product weight.
Choosing the Right Manufacturer
Even with the most thorough knowledge of palletizers, if you're not working with the right manufacturer, you could end up with a very unsatisfying product. It's extremely important that you take your business to a palletizer supplier or manufacturing company that is experienced and trustworthy.
Why Choose a Douglas Palletizing System?
Customers are number one
Single-source supplier
Deep expertise in system engineering
Experienced in factory needs and environments
Optimized line efficiency
Small footprint
Efficient
Creative
Douglas Stratum Palletizers are robust in design, build and assembly—built to last.
Robotic Palletizers with Douglas Machine Inc.
For end-of-line palletizing, the
Douglas Stratum™ Robotic Palletizer
completes your packaging process. The Stratum easily combines with Douglas packaging and cartoning or other upstream and downstream equipment for seamless integration. It completes your secondary packaging process, fully automated, from start to finish.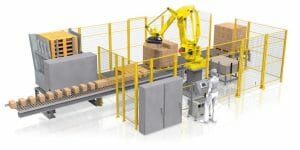 At Douglas, we form a partnership with our customers. We listen to your needs and offer education on best practices, determining the most effective integration solution. Our engineering and manufacturing experts work closely with your team to customize a layout that meets your unique plant and process challenges while maximizing ROI. Our experience and drive for continuous innovation equal a creative, seamless and optimized solution for your unique needs. For more information on Douglas and our comprehensive palletizing solutions,
call or message us
. We look forward to working with you.