COMMISSIONING & INTEGRATION
Getting your new machine properly commissioned and integrated with your facility is a very important step to your satisfaction and long-term success.
To ensure timeliness and accuracy, we recommend a Douglas Service Technician is onsite to assist with machine installation and start-up. During this week-long process, we will: 
Complete machine reassembly
Integrate your new machine into your production line
Perform hand-fed testing of the first factory-tested recipe
Provide informal machine orientation and familiarization for operators and maintenance personnel
Contact us with any questions or to obtain rate info.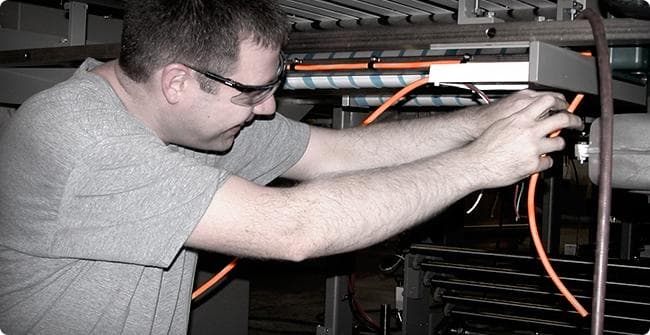 The next phase of getting your machine up and running is the ramp-up phase. This phase includes preliminary testing and refinement of factory-tested recipes. With each recipe taking 1-3 days to test, it is important to maintain efficiency during this process. To ensure factory-tested recipes are validated and accepted during this timeframe, it is important to ensure:
Product is available at specified rates for limited runs
Operators and maintenance personnel are available to help with operation, changeovers and support
Resources are available to work through issues with integration, product flow, out-of-spec materials, etc.
During the validation phase, your service tech will perform test runs to validate your new machine is meeting defined expectations and is ready for your acceptance. With production runs of 2-4 hours per recipe, your tech will monitor machine efficiency to ensure your machine is operating within specified rates.
Ensure all product and materials are available for all factory-tested recipes
Operators and maintenance personnel should be available to work through machine operation and changeovers
Douglas techs are available for support and may shut down the machine intermittently to make adjustments to improve performance
"The performance of the machine is excellent, but I found the process
for purchasing and installing the equipment to be even more impressive."
service@douglas-machine.com