Troubleshooting is a part of business, in any type of business. Operations run smoothly and then they do not. It is no different in manufacturing. When your equipment is down, time is money, and it is time to problem solve. You search for the source of the problem, and unfortunately, it is not always a fast process. You continue troubleshooting until you find the source and then resolve the issue. Production is in full swing again, only to find yourself in the troubleshooting loop down the road once again.
Are you looking for a way to positively impact your troubleshooting process? One system that speeds up troubleshooting is Parameter Change Tracking with HMI Security via RFID Login (individual user login). Beyond faster troubleshooting, it provides enhanced HMI security.
Base machines use numeric passcodes to help identify issues by highlighting changes to baseline parameters. This new system greatly enhances HMI security and root cause troubleshooting. It features tighter control of who can make changes – managing the level of access users have, tracks what was changed and when it was changed. This information allows you to more easily identify and address issues related to maintenance, operations or even packaging materials. It allows you to move into production mode much faster.
The Parameter Change Tracking with HMI Security via RFID Login that Douglas offers includes:
Logging of 500 most-recent parameter edits; viewable on the HMI
Logged data including:

User name (captured through individual user login)
Recipe name
Parameter changed
Values before and after the change
Date and time of the change

RFID reader located at the HMI(s)
Twenty-five individual user RFID key fobs (or use of end-user supplied RFID keys if successfully tested)
HMI screen administration of user names, assignment of keys fobs and security levels (capacity 50 users)
Scan in, scan out and automatic log off timer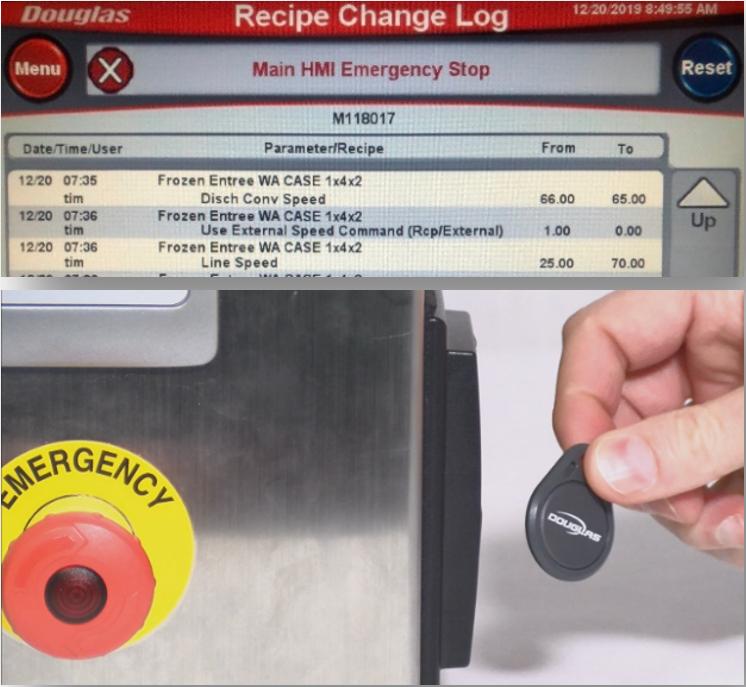 These functions combine to provide you with the highest level of value toward increasing machine performance and uptime. This system is offered as a standard option. Upon request, parameter change tracking and RFID login can be purchased separately, along with a more basic RFID login option providing key fobs preassigned to three different security levels. Ask us about this new, performance enhancing system to learn more. Partner with us to do more.