When you choose Douglas, you're getting more than a quality product, you're getting a complete Customer-Driven experience. Support after sale is just as important – if not more important – than walking with you during your buying journey. In every aspect of your relationship with us, our friendly and skilled employee owners are 100% committed to providing you with valuable and effective collaboration, innovative solutions, responsive support and more.
Experienced, knowledgeable technicians provide you with superior expertise and quick, clear responsiveness to questions and concerns.
We support:
Douglas
APV Douglas
APV Rockford
Davis Engineering
Dimension Industries
AccuLift
Learn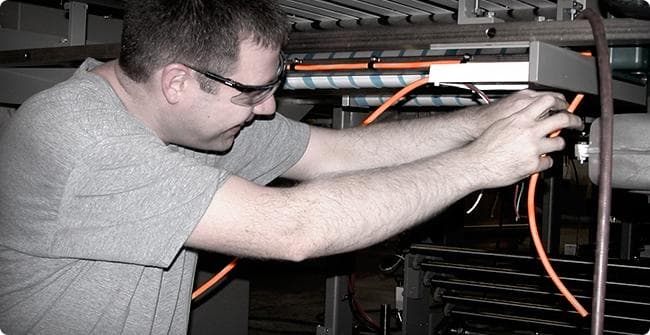 Proper installation of your machine will help ensure smooth operation. Our service techs will be with you as your machine is placed at your site, reassembled, connected to services and powered up. This process works best when partnering directly with your team.
In our long tenure of service, we've learned what's necessary for mutual success. To ensure the best possible customer experience, we have developed internal standards we follow with every machine install. You'll be equipped to help put us in the best possible position for an efficient and hassle-free installation by following our provided Best Practices checklist. This checklist clearly outlines the activities you can complete ahead of time to maximize the time our techs are onsite. It includes things such as ensuring we understand your layout and any constraints in the areas, providing packaging material and product samples in advance, reviewing proposals and specs for detailed accuracy and participating in acceptance testing.
Services we offer:
Ongoing support of your equipment is key to ensuring that the longevity and performance you expect of your equipment is achieved. To ensure you always have the resources you need, we offer a variety of service options and maintenance programs.
"Douglas has shown repeatedly they are committed to solving issues quickly and permanently.
Very pleased with Douglas Machine."
service@douglas-machine.com